The housing market is still hot, just the like the weather. We are looking forward to spending some time on the Boulder Reservoir and at the pool with our daughter, Madelyn, this summer in between showings. (see things to do below)

The picture above is of a closing with Sara and one of her old University of Colorado MBA friends, Chris, who just moved back to Colorado. One of the perks of this job is that we get to reconnect and work with people that we really care about. Congrats again Chris and Kelley and welcome back to Colorado!

We currently have 9 properties under contract, 5 properties closed in May, and 2 already closed in June. In addition, we have several more coming soon listings as well as many buyers actively looking. Our agents have also been super busy, we are so proud of our company! For those of you that don't know, we co-own Open Real Estate, a boutique brokerage with agents all along the front range. Check out our company web page here.

If you are thinking about selling your home, it is still a good time! Let us guide you through the process. First we will advise you on the improvements that will net you the most money, then we will put you in touch with the right contractors for minor home updates, and finally get you set up with our team of highly qualified stagers to make your home look its best. In addition, we've got your social media campaigns covered. Our pricing strategies and analysis put you in a prime position to move your home quickly and for top dollar.

If you are thinking about buying in this market, we have what it takes to win multiple offer bidding wars. Put our high level of personal attention, knowledge of the market, and our hard work ethic to your benefit.

Inventory for single family homes is down 70% in Boulder County and down 67% in the city of Boulder compared to this time last year and down 12% for the county and flat for the city from last month. New listings are down 15% in the city and down 18% in the county from this time last year. Compared to this time last year, months of supply in the county is down 74% at .6 months of supply and down 76% in the city at .9 months of supply. Listings are moving very quickly; Boulder County is seeing a 47% decrease in the median days on market at 26 days and the city is seeing a decrease of 44% from this time last year at 34 median days on market. The median sales price for single family homes is up 40% for Boulder County and up 44% for the city of Boulder from this time last year. Median price per square foot is up 36% for the county and up 33% for the city from this time last year.

We continue to be forever grateful for the Boulder community, our friends, and clients. We genuinely appreciate YOU. Hoping to see you soon. Set up time with us to discuss your real estate goals. We are here for you!

As always, we appreciate your referrals. Thanks for your support.

Sara and Svein Groem
Open Real Estate
303-522-4184
* Please disregard this message if you are working with another real estate broker. It is not our intention, nor is this an attempt to solicit the current offerings of other real estate brokers. All data was gathered from IRES MLS, ShowingTime and Altos Research, Inc.
Last 3 Months Market Snapshot for
the City of Boulder Single Family Homes
Inventory for the City of Boulder Single Family Homes June 2018- Present
Featured Properties

AVAILABLE NOW
435 Valley View Dr, Boulder
4 bed, 5 baths, 5,112 square feet
Listed at: $3,995,000

Your Downtown Boulder retreat awaits. This custom craftsman home on a large lot near Mapleton Hill has every need addressed including privacy, mountain views, and steps to trails and downtown. Completely renovated with modern finishes including a large gourmet kitchen fit for a chef, gym and basement entertaining area with custom lighting. Arguably one of Boulder's best backyards and amazing curb appeal. And to top it off, it has a large 4 car garage to accommodate for all your toys and cars. Check out the 3D tour here.




COMING SOON
1341 Alpine Ave, Boulder
3 bed, 2 bath,1,979 square feet
Offered at: $1,350,000

Downtown, charming brick Boulder Bungalow features radiant heat, refinished hardwood floors, a large covered porch, and two balconies with unobstructed Flatiron views. Upstairs master suite with a full bath, plenty of closet space, and an office. First level has two bedrooms, a private office, separate dining room, eat in kitchen, and family room. The basement has a laundry area and storage. Fully fenced-in front yard and side yard with patio. Two off-street parking spots are adjacent to the home. Steps to Ideal Market Grocery, an 8-minute walk to downtown Pearl Street, and close to Boulder's best hiking trails. Check out the 3D tour here. Relisting next week, call me for details!




UNDER CONTRACT
1015 Pearl Creek Rd, Red Feather Lakes
3 bed, 2 bath, 2,321 square feet
Showing start May 28
Listed at: $800,000

Custom built log cabin retreat bordered by Roosevelt National Forest. This home has all of the conveniences of the city with the quiet of the country. Nothing to block the gorgeous panoramic views off of the wrap around porch & sunroom. Completely updated including a new well, new generator, renovated baths, renovated kitchen with granite counter tops, & much more. Finished studio above garage and workspace in garage offers flex space. Check out the 3D tour here.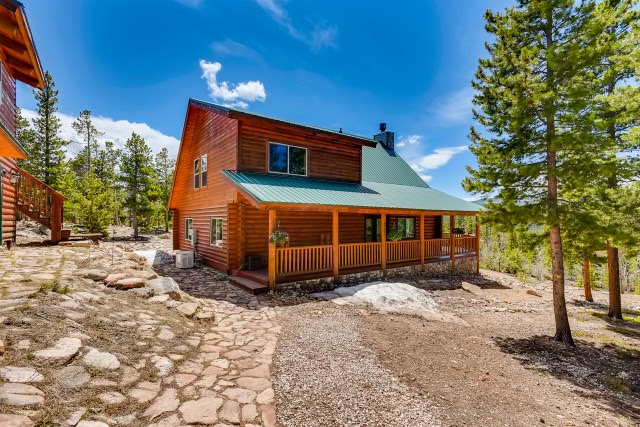 UNDER CONTRACT
57 Old Townsite Road, Boulder
2 bedrooms, 2 bath, 1302 square feet
Listed at: $775,000

Top of the world views from this beautiful newly constructed home in Sugarloaf, just outside Boulder. Everything is new and the owners have put a lot of thought into the design, architecture, and how the home fits into the surrounding area. The Sugarloaf area is surrounded by the beauty of the foothills while being just minutes from Boulder.

The buildable lot next door (55 Old Townsite Road) is also under contract, offered at $225,000. This lot also provides easy access (short distance of good dirt road) and gently rolling topography, making this a great place to build your dream home. Buy one or both as a combined sale. Check out the 3D tour here.




SOLD
2894 Twin Lakes Circle, Lafayette
3 bed, 3 bath, 2,904 square feet
Closed: 6/1/2021
Sold for: $885,000

Congrats to Kelley and Chris on the purchase of your beautifully updated home in the coveted Indian Peaks South neighborhood. Right across from the pool. Close to downtown Louisville and downtown Lafayette. Can't wait to have you both back in Colorado! When is the pool party?




SOLD
16903 W 66th Lane, Arvada
4 bed, 5 bath, 4,258 square feet
Closed: 6/2/2021
Listed at: $875,000
Sold for: $1,005,000

Jim and Roseann, thanks for trusting us with another home sale. Your gorgeous Arvada home had multiple offers and went for $130,000 over ask. Congratulations on the sale and best of luck in the future. It was a pleasure working with you again! See the 3D tour here.




SOLD
2247 23rd St, Boulder
2 bed, 2 bath, 1,327 square feet
Closed: 5/14/2021
Listed at: $995,000
Sold for: $1,100,000

Congrats to our friends and clients, Jim and Jen, on the sale of your rental. All the love and care that you put into this adorable and bright Whittier Bungalow paid off. We were able to negotiate an $105,000 over ask sale. Turns out we work well with friends! Don't miss the 3D Virtual Tour here.




SOLD
4831 127th, Broomfield
4 bed, 4 bath, 3,960 square feet
Closed: 5/7/2021
Sold at: $755,000

Congrats to our buyers, Alex and Crystal, on the purchase of your stunning Broomfield home with mountain views. This house has a huge .39 acre lot and a 3 car garage. We are thrilled that we were able to help you find and secure your dream home in this competitive market.




SOLD
3047 Grizzly Peak Dr., Broomfield
4 bed, 3 bath, 3,926 square feet
Closed: 5/10/2021
Sold at: $835,000

Congrats to our buyer, Cheryl, on the purchase of your Anthem Broomfield home with mountain views on a cul de sac with a 3 car garage. Can't wait to hear about the amazing sunsets from your covered deck.


Things to Do this Summer
Things are really starting to open up. Here are some ideas to get the most out of your Colorado Summer.
1. Boulder Reservoir
Boulder Reservoir is a 700-acre, multi-use recreation and water-storage facility, owned and managed by the City of Boulder. There is a beach, restaurant, and boat dock. You can rent boats and paddle boards. It's one of our favorite spots on a hot day. The views are pretty phenomenal. For more details visit their website here.
Where: 5565 51st St, Boulder, CO 80301
2.
Scott Carpenter Pool
The Scott Carpenter Pool (pictured above) is now open and fully remodeled with amazing water slides, a lazy river, a lap pool and a great splash pad, it may be your family's new favorite summer hot spot. For more details, visit the website here.

Where: 1505 30th St, Boulder
Leisure Pool hours: Open 7 days a week: 10 a.m. to 6 p.m.

3. Make a Healthy Salad

This is one of our summer favorites especially if you have a lot of home grown tomatoes!




INGREDIENTS
2 lbs tomatoes cherry tomatoes halved
1/4 cup olive oil
1 Tablespoon maple syrup
1/2 teaspoon sea salt
3/4 cup diced cucumber
1/2 cup feta cut or crumbled into small chunks*
1/4 cup red onion chopped
2 Tablespoons white balsamic vinegar
1 Tablespoon fresh basil finely chopped
sea salt and pepper to taste

INSTRUCTIONS
Preheat the oven to 350°F and adjust one of your oven racks to the top third of the oven. Cut tomatoes in half and place 1 pound in a bowl, set aside. Gently toss the other pound of tomatoes in a bowl with the olive oil, maple syrup, and salt. Arrange them in a single layer, cut side up, on a rimmed baking sheet.

Bake until the tomatoes shrink and start to caramelize around the edges, about 45 minutes. Set tomatoes aside to cool for 30 minutes.

Gently toss roasted tomatoes, fresh tomatoes, cucumber, feta cheese, onion, vinegar and basil in large bowl. Sprinkle with sea salt and ground pepper to taste.

Roasted Tomato Salad | Eating Bird Food

If you like our newsletters, forward them to a friend.