Dear Friends,

Hope you are all staying safe. We've been enjoying the warmer days of spring, spending quality time with family and staying busy during these last couple weeks even in the onset of COVID-19. Working from home is now part of our daily routine but we are still very active in real estate transactions. Real estate is among the professional services that are considered essential in the state of Colorado during the mandated stay-at-home order. As your trusted real estate advisors, we would like to let you know we are here for you during this unprecedented COVID-19 environment and we are happy to chat with you as well as provide insight into the current housing market. Our priority is the health and safety of our clients, family, friends, and our local Boulder community. Although we already had a strong digital platform in place, we have now implemented a number of new virtual solutions to help our agents support our clients even better.

We have several new coming soon listings that will hit the market this spring, multiple properties that have closed this week, as well as numerous properties currently under contract. This is consistent with the market as we are still seeing a steady flow of new homes coming onto the market. Mortgage rates continue to stay low, we've seen some extremely competitive rates with small down payments requirements. Low mortgage rates continue to encourage home-buying activity, especially in the lower price ranges. All parties are adjusting to the new life during the COVID-19 restrictions but more than ever, home (and home ownership) remains a part of our basic DNA. Even during unexpected and uncertain times like this real estate transactions will continue to happen.

New listings are down 5.8% in Boulder county and down 11.8% in the city of Boulder to this same point last year, but up 24% from the previous month in the county and up 5.2% from the previous month in the city. Inventory for single family homes is still low, down 18.5% in Boulder county and down 10% in the city of Boulder compared to this time last year and flat for the county and city from last month. (This could mean that sellers are waiting to list their homes until there are more positive COVID-19 news coming out). Prices have remained flat for several weeks. The median sales price is up 0.7% for Boulder county and up 4.1% for the city of Boulder year over year. Average days on market is up 13.2% at 43 days for the county and up 10.5% at 42 days for the city compared to this time last year, but down 8.5% for the county and down 21.2% from last month.

We are living in a time of uncertainty without much control over unknowns. What we do know is that Boulder is one of the most amazing places to live. It has continued to be proven as an incredible real estate investment even during numerous recessions and housing crises over the last four decades. There will be some sellers that will hold off on putting their house for sale and some buyers that will wait to buy, but we believe this is just temporary and not true of all sellers and buyers during this time. One thing we are confident in is that we will push through this even stronger than we were before.

As always, we appreciate your referrals. Thanks for your support and don't forget that this too shall pass!

Sara and Svein
Open Real Estate
303-522-4184
sara.groem@gmail.com

*All data was gathered from IRES MLS and Altos Research
Last 3 Months Market Snapshot for
the City of Boulder Single Family Homes
Last 3 Years Market Action Index for the
City of Boulder for Single Family Homes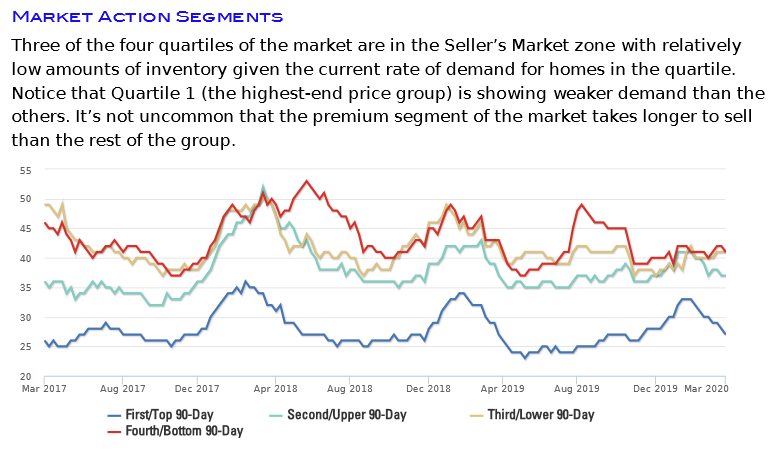 Feature Properties
COMING SOON!
315 Auburn St, Boulder, Colorado
3 bed, 2 bath, 2,464 square feet

This 3 bedroom attractive ranch home is conveniently located in the Table Mesa neighborhood in South Boulder zoned for great schools. It has a fully finished basement. This home has been meticulously cared for, is newly updated, and on a corner lot. Available soon for showings.

COMING SOON!
816 McKinley Ave, Louisville, Colorado
3 bed, 1 bath, 1350 square feet
This a
ttractive historic home is just blocks from Main St in beautiful Old Town Louisville and offered for less than $1M! Character and charm is everywhere inside this beautifully upgraded home. It has a large back yard with Koi pond and hot tub as well as a detached art/yoga/work studio. Walk to restaurants, arts center, shops and parks. Available soon for showings.

COMING SOON!
2003 Bluff Street, Boulder, Colorado 80304,
2 bed, 1 bath, 1083 square feet

A
beautiful home in the heart of the Whittier neighborhood in downtown Boulder. Located on a large lot with a finished detached studio & 2 car garage. Walk to everything Pearl Street has to offer. Available later this spring for showings.



COMING SOON!
4100 W 118th Place Westminster CO 80031
3 bedrooms, 3 bath, 2400 square feet

Move right into this gorgeous corner unit in the Bradburn subdivision in Broomfield. Great location near parks, biking trail, a multitude of shops, public transit, and top-rated schools! Available later this year. The owners need to find a replacement home but may be open to private showings.



COMING SOON!
815 13th St, Boulder, Colorado
4 bed, 3 bath, 2868 square feet

This attractive home on a huge triple lot within walking distance to Chautauqua, trails, CU, city and airport buses. It has a beautiful kitchen, living room and dining room on main floor. Master bedroom and master bath are tucked away on main floor along with another bedroom and bathroom. Two bedrooms, bathroom, and large family room are downstairs. It has a rare two-car attached garage. The oversized lot has unique rock work in the back yard and Flatirons views. Pending the owners finding a replacement home this should be available later this spring, but may be open to private showings prior to going live.
*Photo credit to Denise Powell and Ryan Flahive
*Background photo credit to Huong and Jeff Weiss
Things to Do at Home



One thing that we can be sure of during the COVID-19 pandemic is that we have got to be more creative with staying in touch with people and finding new ways to entertain ourselves as well as our family. Here are some ideas we've seen and experienced.



Zoom and Google Hangout Parties



Download Zoom or Google Hangouts and set up a gathering with family and friends to stay connected. We've been doing this with all of our friends and family it's been a great way to connect.



Complete Physique Online Workouts



We know that when the weather is snowy or rainy outside there are limited workout opportunities during this time. Kathleen comes to the rescue as she has group work outs available online live or in a to access whenever it's more convenient for you. You can access all of the various options here. There are many options for videos, such as foam rolling, flexibility, Crazy Cardio, Dumbbells, Kettlebells, and Paper Plate workouts! Let's band together and support local businesses like Complete Physique during this trying time.



Support Local Restaurants with Takeout Orders or Gift Cards



This is a very trying time for local restaurants. If we want them to survive, we need to support them with our purchases. Here is a list of available take out options in Boulder. You can even order carry out cocktails! It's great way to support the local community as well as give yourself a break from cooking and doing dishes once in a while. Visit Boulder Daily Supper and this Westword article to see available takeout options.



Try a new recipe at home
Have a virtual vacation